This post is to explain what a Downline Builder is, and how it can help you simplify your time and effort on advertising. How they can generate a viral income for you if you are a marketer that advertises on Traffic Exchanges, Solo Ads, or maybe your not a typical blogger, and you are more like myself. What I mean by that is, I know not all matrixes and MLM (multi-level marketing) programs are a scam, and I do both blogging for promoting companies and corporations, and I also blog to those wanting to learn how to market the other way promoting systems directed to other ways of making an income other than SEO organic traffic.
There are times that the two different types of businesses also come together like landing pages, autoresponders, and funnels; however, those topics are for a later date.
I know it is a rare thing to be active in both types of businesses, but I have my own method where I combine both systems to work for me. That is my niche, bringing both worlds together. So, if you are a skeptic or you just want to stick to your method, and you are a blogger that is just focusing on promoting companies and tangible products specifically. This post may not be for you.
For those of you, looking to find a better way in the make money online avenue through promoting links in various avenues and viral traffic, then this post IS for you!
What Is A Downline Builder
I have had people ask me is a downline builder MLM (multi-level-marketing). The short answer to that is no.
A Downline Builder is simply a website that takes company frequently used in a specific genre, and puts them all in one page for you to promote. It encourages someone to not only sign up for one of those programs but all the products featured on that particular website. Thus, increasing your downline to build in multiple programs, not just one. It makes you more capable of making a larger multi-stream income instead of having all your eggs in one basket. I personally have been burned bad by putting my eggs in one basket and only focusing on one product only for them to change the comp plan and my downline did a mass exodus. I could almost write a book on going from 2500 a month to zero in one week.
We will use the Downline Builder, that I am currently promoting to demonstrate how it works. This one, in particular, is a free-to-join downline builder, I am a member of others that do have a monthly fee. However, this one does not. ONLY, the programs in the builder are paid programs. That is how you get paid. This one is totally free and comes with the training and tools you use to promote your builder.
Please watch the video below. It is about 40 minutes long; however, Alonso does a fabulous job telling how this program works. This is generally how ALL downline builders work. You join the programs in the downline then only have to promote the main website where they all live. As you explore online marketing in this method, you will find a lot of the same programs are in different downline builders. You will also find there are downline builders in a lot of the companies that were promoted in the downline builders themselves. So, you can see how advertising one link and can generate you a viral, residual, and multi-source income.
Here is a partial screenshot of another downline builder I am a member on, just so you can get a visual of how it works as well. Again the one below is not Virtual Downline Builder.
As you can see above, All in One Profits (AIOP) is also on this one and on Virtual Downline Builder, among with many others as this is just a partial list on this site, their list is huge. In the future, We will be talking more about these companies, but for today we are just focusing on what a downline builder is.
How Do Downline Builders Work?
Once you are involved in the programs that are in the list on the particular downline builder you are on, you are given referral links, splash pages, and other tools on that downline builder that you can promote. When someone signs up to that downline builder you just promoted, then they are presented with the same programs you were with your affiliate links in there. They will then either sign up to those programs or add their affiliate id's they already have.
If, they don't sign up to every program in that downline builder, and they leave their box blank, then whoever signs up under them if they sign up to that program they left blank, but you didn't. You get the signup and money from that particular program. So, even their advertising efforts (your downline member) showing all the programs in that downline builder can be advertising for you if they did not sign up to all the programs that you are involved in. However, if they did sign up to all the ones that you did then you made money off of them on everything they signed up to. That is what makes it viral. Either they will sign up or their downline members will sign up under you.
Where can I find Downline Builders?
Just about on any Surf Exchange, Solo Ad Exchange, and multiple other trade credits for traffic website you will find a website for a Downline Builder, in fact, most of them have their own Downline Builders.
Like this one on HungryForHits.com a manual surfing traffic site, I'm frequently on. As you can see, I have work to do as I haven't filled mine out yet, and I am a member of some programs on there so right now if I was to get a referral for HungryForHits my upline would get those referrals.
The Downline Builders I'm Recommending
Right now there are two main downline builders I'm promoting, and as I said the programs within those two also have their own so of course, in a sense, I'm promoting those as well by promoting my main ones. You already saw the two I'm really working right now, but just to make it easier in case you want to join either of them, you will find their banners below.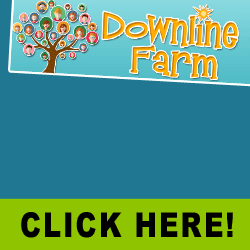 How To Advertise Your Downline Builders
Of course, you can review them or use them on your blog pages, if you have a blog. You can promote them on any traffic exchange or your own email list if you have one. We will go more in-depth at a later time on traffic exchanges, solo ads, viral traffic, autoresponders, funneling and all sorts of cool stuff so stay tuned. Oh, and keep an eye on in the future for a post on how to get your own Click Bank Store. Yeah, real exciting stuff coming!
What to do now?
Well, you can sign up to a downline builder and start working it, or you can go to my previous post I made about Financially Blissed's Mind Ultimate Money Making Plan. The plan shows you how to use your own blog site built with the training from Wealthy Affiliate and using the Virtual Downline Builder above into a long term and immediate income. An update is coming soon on the plan with some minor adjustments so stay tuned. As with all plans, adjustments need to be made periodically. Many exciting new things coming to Financially Blissed Mind, and looking forward to seeing you again next time.
Oh, I almost forgot! For taking the time to read my post today I am offering you a free e-book for being a valued reader of Financially Blissed Mind. Click on the book to receive your free copy today. Thanks again, for reading our posts.
Please follow and like us: